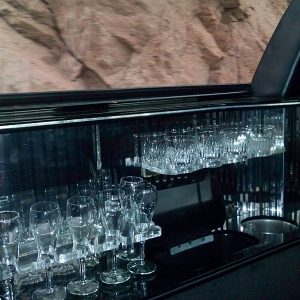 INTERIOR OF YOUR NEW LIMO
Your passengers spend hours inside your limo, so you want your interior to look exquisite. Using the right products and techniques is key to maintaining the interior of your new limo. As with anything the right tools make all the difference.
When your passengers step inside your new limo, they want everything to look as if no one has ever ridden in it before. Leather should be soft and supple. Carpets should be plush and clean. The windows should be smudge free. Luckily, it's not as difficult as you might think to maintain the interior and keep it looking new for years.
TREATING LEATHER PROPERLY IN THE INTERIOR OF YOUR NEW LIMO
Many limos have leather seats mainly because they're easier to clean and maintain than cloth. After all, wiping up a spill is much easier with leather than cloth. The problem is many products leave behind a greasy residue or even stain lighter leather. Regular conditioning and cleaning with the right leather products keep leather from looking aged and dry.
Auto-detailers recommend:
Meguiars Leather Conditioner
Pinnacle Leather and Vinyl Cleaner
Wolfgang Leather Conditioner
For best results, a leather cleaning kit is ideal as it comes with the proper applicators and multi-step cleaner and conditioners for regular leather maintenance.
Cleaning Up Dry Messes
Dirt on floors and seats is inevitable as passengers climb in and out. If you don't remove it, it could leave stains or scratch surfaces. For dry messes, you really only need a few tools – a small whisk broom and a hand-held vacuum. Start by using the broom to bring dirt on carpeted surfaces closer to the surface and then use the vacuum to finish the clean-up.
Quick Clean-Ups
Maintaining the interior of your new limo means keeping tools on hand for quick clean-ups. In most cases, you'll need two products – all-in-one surface wipes and a hand-held duster. Many limousine services use Pledge Multi-Surface Wipes to quickly wipe away dirt and light stains from surfaces before they can become an issue. A duster, such as Swiffer or California Versaduster, allows you to pick up dust that accumulates along doors, the bar and electronic surfaces.
COMBATING ODORS
It doesn't matter how well the interior is maintained if your passengers can't stand the smell. It doesn't take long for perfumes, sweat, spilled drinks and even food to make your limousine smell like the world's worst restaurant than a brand new limo.
First, clean up anything that may be causing the odor. Next, open all doors and use an air freshener made for vehicles. Febreze Car Air Freshener and Frebreze Vent Clips keep your new limo smelling fresh without leaving behind a strong scent.
The Right Cloths
The cloths you use to maintain your limousine make a major difference. For instance, some cloths could leave behind lint, leaving you with a peach fuzz look on all your interior surfaces. Instead, always opt for micro-fiber cloths and detailing sponges. These are designed to leave surfaces streak free without leaving behind any extras.
Eliminate Inside Streaks
Your passengers shouldn't have to struggle to see through annoying streaks on the windows. The problem is, passengers often leave behind fingerprints as they point to things while riding. Your driver can quickly maintain the look of pristine interior windows by having the right products stored in the trunk:
Tint safe glass cleaner, such as McKee's 37 Krystal Vision Glass Cleaner or Stoner Invisible Glass
Micro-fiber towel
Glass cleaner reach tool, such as Stoner Invisible Glass Clean and Reach Tool or any tool with a micro-fiber pad
It's important not to use regular glass cleaner on tinted windows or it could damage the tint. Before using any glass cleaner, make certain it's safe on your tinted windows. You can even use water, but it may take a little extra scrubbing to remove stubborn smudges and dirt.
Remove Stains Without Staining
The hardest thing to keep clean when maintaining the interior of your new limo is carpeting. Use the wrong product and you could be left with stains or damaged carpet. Many limousine services recommend using Turtle Wax Carpet Cleaner with Oxy Clean to safely clean and deodorize carpeted surfaces.
Maintaining The Interior Of Your New Limo
Interior maintenance starts on day one. Protect and clean surfaces regularly. Show your chauffeurs how to do quick clean-ups on the go and create a clean-up kit to keep in the trunk. Your passengers will always be impressed with how beautiful the interior of your limo always looks.
Now that you know how to maintain a new limo's interior, it's time to buy one. Contact us today to check our current inventory and add a new limo to your fleet.